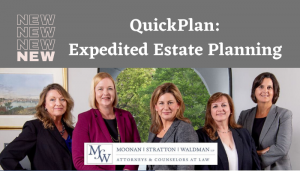 QuickPlan is here.
We are offering expedited estate planning services for a limited number of clients each month. Our QuickPlan service will move you through the estate planning process quickly so you can remove "will" or "trust" from your to-do list.
This service is primarily intended for health care providers, first responders (police/fire) and others workers who are facing challenges due to COVID-19 but realize the importance of having a plan in place right now.
We remain committed to providing comprehensive estate planning services, such as wills, trusts, powers of attorney and other critical estate planning vehicles. We are meeting with our clients by phone, video conference and, when critical, in person. We continue to take all necessary precautions to safeguard the health of our clients and our team. See our COVID-19 information page here.
Call us today at 401.272.6300 so we can design your plan.